Bluewater Health has received national recognition for its stroke program.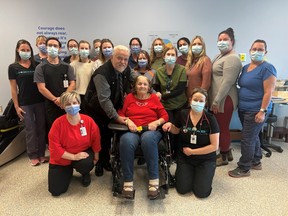 Bluewater Health has received national recognition for its stroke program.
"It's very exciting," rehabilitation and palliative care director Paula Gilmore said about the Accreditation Canada results. "What it really does is signal Bluewater Health is providing high quality stroke care in both our acute stroke services and rehab stroke services, and our community can really take stock in the fact that they are receiving that national standard."
As part of this Distinction in Stroke Services accreditation, surveyors visited the hospital over three days in November, she said.
They were initially scheduled to visit in November 2020, but the process was delayed because of the COVID-19 pandemic, she said.
The survey involves talking with physicians, staff, patient experience partners, patients and families, community partners and others while touring the departments and units that support stroke services at Bluewater Health. The surveyors also looked into how Bluewater Health plans, monitors, manages and resources stroke services, as well as how it collaborates with community service partners, officials said in a news release.
"The achievement is really a milestone that wouldn't be made possible without our inter-professional team here at Bluewater Health in regard to our stroke services, as well as co-ordination with our community partners, such as emergency medical services and New Beginnings , which is a stroke recovery association," Gilmore said.
Bluewater Health has been a district stroke center since 2003, and typically sees about 200 patients per year admitted for stroke or transient ischemic attack (TIA), also known as a mini stroke, she said.
Between April 2021 and March 2022, there were 1,039 patient visits to Bluewater Health's secondary stroke prevention clinic and 171 patients admitted with stroke or TIA to the acute stroke unit, with 95 of those requiring inpatient rehabilitation, officials said.
Bluewater Health was one of nine stroke centers in the Southwestern Ontario Stroke Network that applied for the distinction awardofficials said, noting Bluewater Health was "unanimously praised" by care providers and others for a team-based approach to care and quality of stroke services provided.
The accreditation remains in place until 2026, Gilmore said, noting there's no extra funding or other changes as a result.
The distinction recognizes achieving performance indicator thresholds; implementing stroke protocols for clinical practices; a commitment to excellence, innovation and client and family education; and compliance with Accreditation Canada standards, she said.
Bluewater Health received special mention for its approach to providing education "every step along the way" for patients and families, Gilmore added.
"Our services are circled around the education that people need in order to prevent a stroke or another vascular event from happening," she said.
"And if someone does unfortunately experience stroke … in the acute care sector," hospital officials want to make sure they and their family members understand what is happening, what medications are required and any other important information, she said.
"The surveyors actually commented on how wonderful that education across the continuum of care for patients was at Bluewater Health."