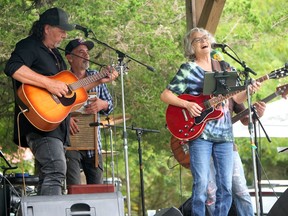 At its roots, the Birdtown Jamboree is a local concert that supports Norfolk youth.
It's all about raising funds to get instruments into the hands of children/youth, said co-founder Tony Duclos at last weekend's Sept. 9-10 jamboree.
"We've got a pretty good crew with all the volunteers," said Duclos. "They don't get enough credit – really it's all of us that make it happen."
All of the bands, solo artists and duos play for free, he said, and most of the lineup comes back from year-to-year.
"We're all in it together for the cause. There's a need for arts and instruments."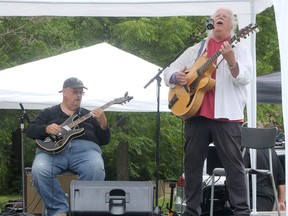 Boston Public School recently received 25 ukuleles and Valley Heights Secondary received guitars for an entire classroom. Every year they make a donation to YTP (Young Theater Players) and the Norfolk Musical Arts Festival.
"It's significant because 'everybody's the same.' The opportunities are there."
They've also mentored Grade 7-8s during a lunch/recess guitar class in Port Dover.
After many years at the Wagon Wheel Corn Maze, the Birdtown Jamboree needed to relocate after the corn maze closed in 2020. They found a new home at Homegrown Hideaway on St. Johns Road East, northwest of Port Dover.
"It's a natural amphitheater," said Duclos as JD Semple and the West Quarter Line band approached the end of its mostly originals set Saturday afternoon playing a cover of Johnny Cash's Folsom Prison Blues.
"The sound is incredible. Yeah, it's a great place," said Duclos, pleased with Saturday's turnout and expecting a good crowd Sunday. "We've got a good crowd – we're happy with what we've got."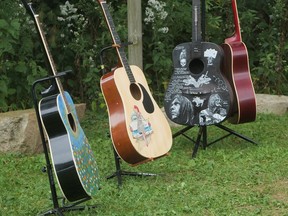 GUITAR ART AUCTION
Duclos was also pleased with bidding on the 'Wall Hanger Art Guitar' auctions, featuring eight guitars. Proceeds support local children's/youth music and arts initiatives in Norfolk County.
"They're all good, well-known local artists. We've got some really good artists involved this year."
The guitars – some of them spectacularly done – can be viewed online on Facebook and 32auctions.com or in person until Saturday, Sept. 16 in a window display at Suzanne Coverett Earls' Pieceful Arts studio, 16 Robinson Street, Simcoe. Bids at www.32auctions.com/BirdtownJam2023Auction will be accepted until 9 pm Sept. 16. As of Tuesday, bidding had reached $2,060 (combined) of their $5,000 goal.
In 2021, the Birdtown Jamboree announced it would be selling its first compilation recording, the Birdtown Jamboree Project – Volume 1, engineered and produced in Simcoe, showcasing local musicians and their original music.
"This year we recorded full bands. All the bands playing today (Saturday) recorded a song for the Volume 2 album. It's almost done. And we're just going to keep doing that because we're encouraging our local musicians to write their own music. Whatever we make off the albums goes back into the Birdtown Jamboree."