What if hundreds, maybe thousands, of kids didn't show up for school one day and no one wanted to talk about why?
In the fallout of an apparent mass boycott that hit at least seven London elementary schools, a seeming backlash to an anti-homophobia day this week saluted across the school district, no one at the top in education – from the minister in charge, down to school board brass – was taking questions Friday.
That leaves a lot unanswered, including exactly what happened at those, and maybe other, schools Wednesday that so many parents kept kids home, leaving one-third or more of their pupils absent, and what is the Thames Valley District school board, one of the largest in the province, doing about it?
Education sources have pointed to parental backlash, especially among Muslim families, to events marking and celebrating sexual and gender diversity and the LGBTQ+ community. The Pride flag, emblematic of LGBTQ+ inclusion, flew at all 161 of the schools in the school board on Wednesday when the trouble blew up.
"I had one pupil tell me she wouldn't come (to school) because she would be talking about the gays and it's not OK for Muslims to talk about it," a teacher at one of the schools hit by high absences, who also has a gay daughter, said Friday.
"It's heartbreaking to think of the children: If my daughter was at this school, think of what she would be going through. Would she ever come out to her parents?" asked the teacher, who did not want to be identified.
A member of Pride London said the apparent pushback is "a bit shocking" and a "reminder that just because people may not see something, it doesn't mean it doesn't exist."
Stephen D'Amelio also said the issue is unlikely to go away and parents need to start talking.
"There are queer and lesbian and transgender Muslims. It doesn't stop at a religious belief or a race," said D'Amelio, the secretary of Pride London. "I would love to see adults stepping up and being adults and having adult conversations. I'm disheartened that this is a reaction to what is supposed to be a day to show respect for one another."
The London Muslim Mosque is aware of the situation and is "looking into the matter," Ali D. Chahbar, its outreach coordinator, said late Friday. "We will work directly with (the school board) to address any issues."
Local education officials weren't talking. Nor was Education Minister Stephen Lecce's office, which referred questions to the school board, nor the board's top official – Mark Fisher, its education director – who was not made available for comment.
A board spokesperson quibbled with the absence numbers The Free Press reported, but did not provide alternate numbers.
Even the school district's top politician, the chairperson of its board of trustees, was tight-lipped, not taking questions and issuing only a general four-sentence statement that neither addressed the large numbers of children who were no-shows at schools Wednesday nor what explained those absences.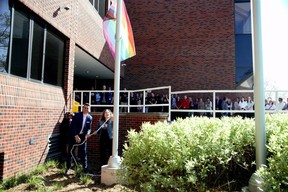 "The Thames Valley board of trustees is proud to stand with and affirm identities of all students and staff. Today and every day, Thames Valley remains committed to eliminating discrimination in all its forms," trustee Lori-Ann Pizzolato wrote, in part.
What The Free Press has reported, from education insiders, is that hundreds of kids at individual schools – in levels as high as one-third or more of entire school populations – weren't at school Wednesday, when the board flew the Pride flag at its schools in honor of International Day against Homophobia, Biphobia and Transphobia.
At least seven schools were affected.
Among the schools hit by heavy absences was one of the city's largest and most culturally diverse, Eagle Heights. It counts a large Muslim student population and it's where a similar mass absence erupted in February as the school marked Rainbow Day, which is all about celebrating diversity and inclusion.
Then, and again Wednesday, sources have said, the pushback was largely driven by Muslim parents wanting to keep their kids home from events supporting the LGBTQ+ community.
"My understanding was many students skipped out on school because of a rumored presentation that was taking place. It was a presentation about International Day (against) Homophobia, Biphobia and Transphobia," said one teacher, a Muslim himself who said he found out halfway through the day why pupils were missing from classrooms in his school.
Just as Christianity includes faiths that frown on homosexuality and same-sex unions, many devout Muslims do the same.
The teacher said he can't speak for the Muslim community, but "just like any religion and people, we (Muslims) all fluctuate on our views and our values.
"One family might view it one way and another family another way," he said. "In a technical sense, I think all three of the Abrahamic religions frown upon homosexuality and I would think that has something to do with it."
Another source in the school system, at a London elementary school, said she's frustrated by what she saw this week.
"When something so visible happens – to cause harm to this (LGBTQ+) group of people, when we don't even acknowledge it as a school board – it's troubling because we talk about inclusion when it's needed to do so and the optics are good , but as soon as it gets difficult, and difficult conversations are needed, we turtle."
She said things are becoming "very divided" in some schools, with some Muslim children "very vocal about their beliefs" and "judgmental of other kids who are not Muslim."
The Free Press sought comment from several Muslim organizations in addition to the London Muslim Mosque, including the Muslim Resource Center for Social Support and Integration and the London Chapter of the Muslim Association of Canada, but none responded.
A spokesperson for the National Council of Canadian Muslims declined comment, saying the issue is "out of our jurisdiction" because the group's work mainly focuses on protecting Muslims from discrimination and Islamophobia.
Zeba Hashmi is a community activist who serves on the London Muslim Mosque board. She said she didn't have enough information to speak about the school absences but hopes the board is working toward a solution.
"I'm imagining there are bigger heads at the TVDSB who I'm sure are working on this," she said. "I do have faith in our representatives, and I am hoping there is a different pathway that will be found to understand the situation."
Besides, Eagle Heights, London elementary schools that reportedly recorded heavy absences Wednesday included Arthur Ford, Wilfrid Jury, Ashley Oaks, Sir George Etienne Cartier, Westmount and Sir Isaac Brock.
The story boomeranged widely on social media, with people weighing in from London and beyond.
"Learning about this incident is saddening," Sara Khorshid, a Muslim and doctoral candidate at Western University, wrote on Twitter, adding when she arrived in London six years ago the imam at her mosque talked about the "importance of making sure Muslim kids go to school and express solidarity on Intl Day Against Homophobia, Biphobia and Transphobia."
"I am hearing about mass absences of students from school in London Ontario when the Pride flag is raised," wrote Ken MacKinnon, from Prince Edward Island. "This really saddens my heart when families do not see that 2SLGBTQIA+ children and families are people with feelings and need our collective support."
-With files from Calvi Leon, The London Free Press