Organizers aim to make more use of property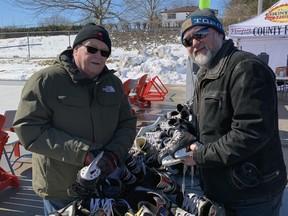 The Norfolk County Agricultural Society is emerging from the COVID-19 pandemic with a renewed sense of purpose and a new goal.
The society wants to make better use of the 14 buildings it has on its 48-acre property in Simcoe to make the fairgrounds the first year-round entertainment facility in Norfolk.
"Everybody refers to us as the Norfolk County Fair Board because the fair is such a big and important event," Brad Nunn, agricultural society president, said in an interview. "But we're actually the Norfolk County Agricultural Society and now that the pandemic is over we want to make better use of our facilities throughout the year.
"It's all about making better use of our facilities and giving back to our community."
A member of the agricultural society's board for 14 years, Nunn was elected president in January. Born and raised in Simcoe, Nunn spent much of his youth working on a tobacco farm just outside of Simcoe.
Nunn spoke about what to expect from the agricultural society over his two-year term while attending a free pop-up skating party held at the fairgrounds last weekend.
"This is an example of what we're focused on," Nunn said. "We got a couple of rinks set up, skates and sticks people can use and we have a local vendor providing the food.
"This is our way of making better use of our facilities and giving back to the community."
The pop-up skating party on the weekend followed the highly successful skating party held on Family Day. The event, like everything done by the society, is driven by volunteers – people with strong and deep connections to the community, Nunn said.
"We have a lot of other events coming up throughout the year including Eat & Drink Norfolk in April and the Norfolk Night Market in June," Nunn said. "We have some other events as well that we can't really talk about until we're ready to make a formal announcement.
"But we're really excited and looking forward to seeing more people at the fairgrounds throughout the year."
Presented by CIBC Private Wealth Management, Eat & Drink Norfolk features locally produced wine, craft beer, cider and food. It takes place April 13 t0 15 and this year will feature an after-party pavilion that includes music and dancing.
Norfolk Night Market takes place June 9 and 10 and will include two nights of headline concerts in front of the fairground grandstands as part of the Amplify Norfolk initiative and in partnership with Norfolk County.
"But even though we're looking to make better use of our facilities and hold more events, we want to make sure that we have an agricultural connection of theme in what we do," Nunn said citing the pop-up skating party as an example. "If you were to talk to some of the local farmers, people with deep roots in the community, they could tell you that it was a lot chillier 50 years ago and back then people used to skate on the irrigation ponds.
"That's changed but we can still recapture that feeling with these pop-up skating parties."
The pop-up parties feature Glice – artificial or synthetic ice – that was created on the fairgrounds for the event.
The Norfolk County Fair and Horse Show is scheduled for Oct. 3 to 9. The fair is the third largest in Ontario and attracts more than 100,000 visitors annually.
This year marks the 183rd anniversary of the fair and horse show.
Other members of the agricultural society's executive include: first vice-president; Dan Taylor; second vice-president; Molly McDowall; former president; Steven Balcomb.
Seven directors were elected to the board for a three-year term, including two new members at the society's annual meeting. Beth Ellwood and Craig Smith are the newest directors while returning members include Morris Bartlett, Sarah Cookson, Vicki Cork, Molly McDowall and Nunn.
For more information, sponsorship or vending opportunities, volunteer information or other inquires visit norfolkcountyfair.com or contact [email protected]
twitter.com/EXPVBall