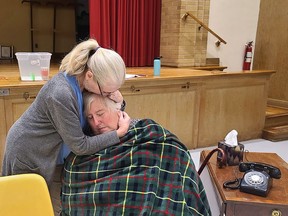 When a local theater director decided to revisit a play he took on 10 years ago, he found his interpretation of the story had changed.
Dan White, a Wallaceburg resident, is directing Remember, Maggy? for Theater Kent at the Kiwanis Theater in February. White previously directed it at the Sarnia Imperial Theater in 2013 as a fundraiser for St. Joseph's Hospice.
The play follows two sisters with opposite personalities in their 40s over a five-year period. Widowed housewife Kate and her alcoholic sister Maggy deal with the progression of their Irish mother's Alzheimer's disease while a looming family secret threatens to destroy their relationship if revealed.
"I think the last time I did it I focused on the Alzheimer's thread throughout it and. this time, going through it and having done it, I really focused on the family and the two sisters, specifically, and the subtext of love throughout the story," he said.
"Alzheimer's is an important part of the story, but the family and the love of the characters and the way that changes throughout the story is really more of what we drew out of it."
Although the play only has one set, White said he "reimagined it" for this performance, partly because of the stage layout at the Kiwanis compared to the theater in Sarnia.
He teased a "cool effect" that will happen with the set during the show.
"If it works the way I imagine it will – and I think it will – it will be very powerful," White said.
Theater Kent auditioned about 20 people for the four roles in the play, whereas 10 years ago White simply chose four actors he knew, had them read the script and asked which role they preferred.
"It's a different cast, so they tell the story differently," White said. "Their interpretation of it, what they have in their lives and what they feed into the characters is very different. You just go with what they bring and guide it."
The cast includes Robyn Brady as Maggy, Lisa Franks as Kate, Gina Paradis as their mother Niamh and JC Wright as friend Irene.
Since the play has only four characters, White said it "demands that your actors are stronger."
"If you have a large cast, somebody that is a little weaker can hide," he said. "Here, there is no place for a weak character to hide, so all four characters have to be extremely strong."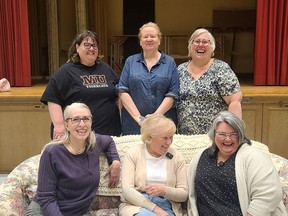 The first iteration of Remember, Maggy? was staged about 25 years ago in Sarnia using a script from Carol Anne Murray. Years later, Murray's daughter-in-law found the script in a drawer.
Murray and her son, Matt, a playwright living in Toronto, then decided to submit the play for the Toronto Fringe Festival. They edited and updated the play together.
It went on to be selected for Best in Fringe in 2011.
"They've tweaked it a few times, just minor things to update it a bit," White said of Carol and Matt. "I've gone to them a couple times and said, 'If we do this and we do this, would that be OK?' and they're so good to work with."
Representatives from the Alzheimer Society of Chatham-Kent will be present at the performances to accept donations and provide information.
Remember, Maggy? will be stagedFeb. 10 at 7 pm and Feb. 11 at 2 pm and 7 pm Tickets are available at www.cktickets.com.