Canadian Juno award winning artist Susan Aglukark has been on a journey to discover her Inuit ancestry and she's been sharing her knowledge.
She brought her one-hour session – NOMAD: Correcting the Narrative, that also includes her music – to the Ursuline College Chatham theater on Sept. 15.
Aglukark asked a rhetorical question: "Why correct the narrative?
"The narrative is the one we have both been told for many generations," she said, adding there is a need to address the stigmas that have been perpetuated.
"Stigmas come from the information you are given … and that you choose to believe," Aglukark said. "Well, that information was wrong and we have to correct that information."
She spoke about growing up with parents who kept her family safe and about coming from ancestors who owned the land and had no fear.
When talking about correcting the narrative, she noted her grandparents "sadly" got involved with alcohol.
"I always thought of them as drinkers and I believed that narrative" she said. "And then I realized, before that, who were they? They were these wonderful people.
"Those are the ones we need to hear, those are the narratives that we need to correct because we believe the wrong ones and then we feel shame" she added.
Aglukark, who has previously spoken publicly about being a sexual abuse survivor, talked about leaving home 32 ago while angry and hurt.
She had arrived in Ottawa in the early fall of 1990 after securing a job working for Indian Affairs and having her own apartment.
However, she came to realize she was, "I was in a state of what I now know as institutionalization."
She spoke of having trouble even making eye contact with a bus driver while using transit.
"I thought I always had to ask permission to do anything new in my life in Ottawa," she said.
However, an opportunity came up to record music, which had a significant impact Aglukark's life, outside of becoming an award-winning artist.
In the recording studio, she began to feel things she didn't know were there. While writing songs, she realized she wanted to know her history and story of her people as far back as she can find it.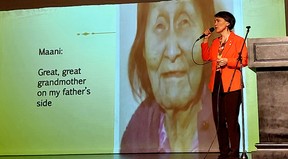 "The more I explored, the more I moved around in the stories, the angrier I got," Aglukark said. "Why am I the one afraid? What am I afraid of? How do I work through this fear?"
As she worked through things, she realized she wanted this life as an artist more than she was afraid of it.
Aglukark also recalls feeling outrage, but not the "I don't like what you're doing" kind of outrage.
"It was this thing that was waking up, that was saying, 'If I don't work through this I pass it on to the next generation.'"
She also recalled thinking, if she going to speak about this, "What I am speaking about? What am I teaching? What am I sharing?"
She said there was point in her career where she hit crossroads, deciding whether to pursue being a celebrity or follow the other road she is on, which she liked.
She decided she could do both.
Aglukark felt something special as the pieces began coming together while learning her about her ancestors.
"It begins to change you, it begins to heal you from a very deep place," she said. "That's why those origin stories are so important in our healing."
Aglukark calls on non-Indigenous people to take some action when it comes to reconciliation.
"We cannot possibly start this reconciliation conversation if we aren't equally in the same place starting," she said.
She said challenges people to select an Indigenous group and learn something about it pre-colonization.
"I promise you, it's going to change you," Aglukark said. "You're going to make a conscious effort to remove all the stigmas from your psyche, from your thinking."
Walpole Island First Nation member Cecil Isaac Jr. said what Aglukark is talking about is coming at the idea of ​​colonization in a different way.
"It's all a process," he said. "Like some of my elders had said to me, 'We didn't get this way yesterday. We're not going to change it tomorrow it's going to take time.'"
Isaac said it's the children and grandchildren, great grandchildren who must be taught about their ancestors.
He said there are Indigenous immersion program in schools to get the next generation "understanding who they are and where they fit in society."
Aglukark believes NOMAD "has been writing itself" before she began sharing the information six or seven years ago.
She said the healing for her in doing these presentations has been incredible.
"When I moved away, this is the very last thing I thought I would do and 30 years later," she said. I just feel like it's been a gift … I'm living a dream, it's really truly a wonderful feeling."